CARDS
SHEETS
DISPLAY & SIGNS
INFO & HOW TOS
All About Colour — A Guide to Commercial Colour Printing
How does commercial colour print work?
We use four main printing processes, depending on the requirements of your job. This article gives you the basics of commercial colour printing so you can appreciate why we suggest the processes we do when quoting for your job.
Full colour process printing (also known as CMYK)

Process colour uses just four colours of ink – cyan, magenta, yellow and black – to produce a very wide range of colour possibilities, ideal for printing photographs. Because we specialise in process colour printing, and we batch jobs together for economy, it can often be cheaper to print even a simple two-colour design using process colour rather than spot colour.
Spot colour printing
A spot colour is simply an exact colour of ink, mixed to your precise requirements. Firms with a recognisable colour brand (EasyJet orange; DynoRod fluorescent red) would always specify spot colours to ensure consistency of their brand.
It often comes as a surprise to customers to find spot colour printing is more expensive than full colour printing. This is due to the labour involved with spot colour printing – first the ink has to be mixed from 14 'ingredient' colours; then the press is loaded with the ink; the job is printed; then the press has to be washed down afterwards ready for the next spot colour job. This labour requirement makes spot colour printing, especially in smaller quantities, disproportionately expensive.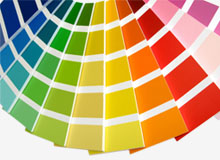 Spot colours are most often specified in Europe and North America using the Pantone system. Swatch books like the one shown here are used to select colours, and the 'ingredients' for that colour of ink are shown underneath.